Patient Assistance
Information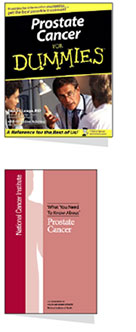 There is so much information on all types of cancers that most patients become easily confused and frustrated. Every person is different and their physical and emotional reactions to cancer are different. So there is no single "right way" to deal with it. There is a reason they're called "second opinions" in the medical business.
But if you're new to prostate cancer, you may want to read Prostate Cancer for Dummies. Don't laugh. Dr. Paul H. Lange, the author, is no dummy. He's a nationally known urologic surgeon, practicing clinician and prostate cancer scientist. He's also a prostate cancer survivor. While some of the techniques have changed in the twelve years since the book was written, it provides a good basic primer on the disease.
There is also a good, basic booklet from the National Cancer Institute What You Need to Know About Prostate Cancer. You can order a free copy or download a PDF version on the National Cancer Institute's website.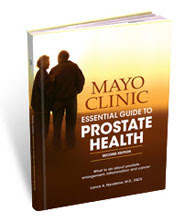 Lastly, the Mayo Clinic Essential Guide to Prostate Health is an informative guide to common prostate problems and is filled with practical strategies for maintaining prostate health. The experts at Mayo Clinic can help you evaluate treatment options, cope with cancer and discover ways to improve your quality of life. You can order a copy from the Mayo Clinic Store.
There are also many other websites from medical centers and cancer foundations that provide greater in-depth information on treatment and management of the disease. In particular, review the sites of Johns Hopkins School of Medicine, American Cancer Society, and the Prostate Research Foundation.
Links:
John Hopkins Medicine
American Cancer Society
Prostate Cancer Foundation

---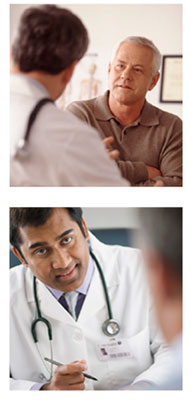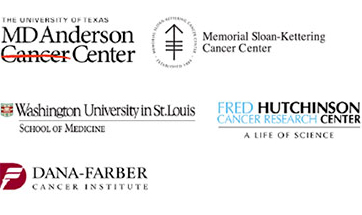 Assistance
Beyond the general information in the resources above, Peter Michael Foundation is available to help with personalized assistance to individuals and their families facing prostate cancer. In particular, Peter Michael Foundation can help in Physician Referrals and Clinical Trials.
Physician Referrals
Due to the nature of its work and the relationships that have ensued, in some instances, PMF is able to refer patients to top prostate cancer clinicians at leading medical centers in the US and the UK. If you desire a referral, please call Peter Michael Foundation at 415.339.0400.
Clinical Trials
A clinical trial is a prospective biomedical or behavioral research study of human subjects that is designed to answer specific questions about biomedical or behavioral interventions (vaccines, drugs, treatments, devices, or new ways of using known drugs, treatments, or devices). Clinical trials are used to determine whether new biomedical or behavioral interventions are safe, efficacious, and effective. (Definition courtesy of Bill & Melinda Gates Foundation)
There are thousands of clinical trials in process that lack sufficient numbers of patients. Most often patients are unaware of these clinical trials or don't fully understand them. The National Institute of Health's website, ClinicalTrials.gov, lists over 30,000 clinical trials that are actively recruiting patients. In addition, the leading cancer centers all list active clinical trials on their websites.
Following are a few of the centers as examples:
University of California San Francisco
MD Anderson Cancer Center
Memorical Sloan-Kettering Cancer Center
Washington University in St Louis
Fred Hutchinson Cancer Research Center
Dana-Farber Cancer Institute
Again, this is general information. Patients must consult with their primary care physician and their cancer management team of urologist, oncologist and radiologist to determine whether a clinical trial is appropriate for them.