Foundation Events
Upcoming 2018 Dinner Events
Stars Laguna 2018
A dinner catered by Wolfgang Puck paired with award-winning Peter Michael wines.

Saturday, October 13, 2018
catered by
Wolfgang Puck
paired with Peter Michael Wines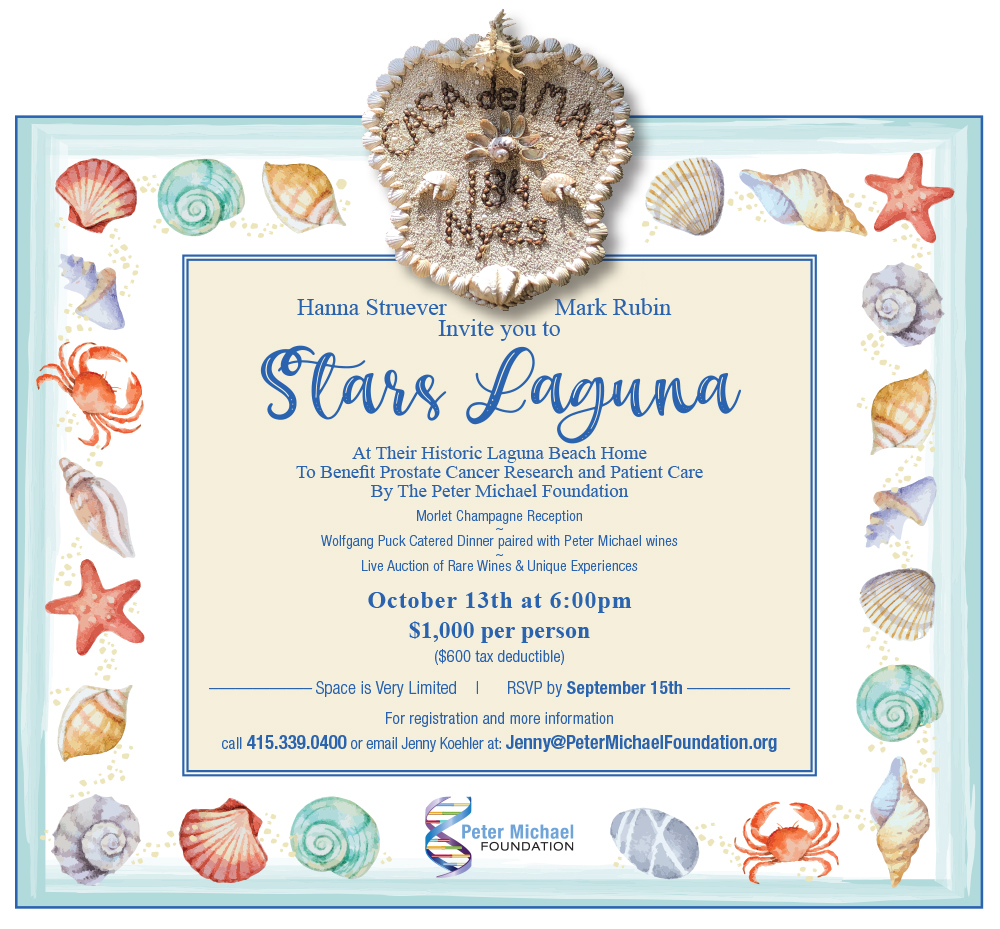 ---
Please consider attending a Peter Michael Stars event. Peter Michael events are intimate, memorable, and fun, not formal. Guests enjoy 4-5 course meals prepared by celebrity chefs, each course paired with a different Peter Michael wine. People come as guests and leave as friends.
The net proceeds underwrite new, effective diagnostic and treatment research for prostate cancer around the US.
If you enjoy great food and wine, spectacular locations, engaging dinner guests, exclusive auction items, and want to meet the Michael family; then you should attend.
For further information, please call: 415.339.0400 or email: Jenny Koehler at jenny@petermichaelfoundation.org.
---

Hands and Hearts is a limited-run, culinary arts book published by the Peter Michael Foundation to raise money for cancer. All net proceeds from book sales and fundraising events will be donated to fund prostate cancer research and patient care.
The cookbook is a 12 x 12-inch, cloth-bound, award-winning first edition featuring 15 of the world's finest chefs and their 30 original recipes for appetizers, entrees and desserts. In addition, there are beautiful photos and stories about the Peter Michael Winery and the Michael Family. Acclaimed wine critic Robert M. Parker, Jr. offers his insights as well.
---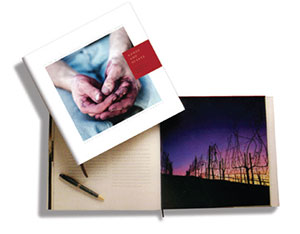 Peter Michael Foundation Chef Partners

José Andrés
thinkfoodgroup.com

Colin Bedford
fearrington.com

Carrie & Rupert Blease
lordstanleysf.com

Daniel Boulud
danielboulud.com

John Campbell
bbc.co.uk/food/chefs/john_campbell

Josiah Citrin
melisse.com

Tom Colicchio
craftrestaurantsinc.com/tom-colicchio

Dominique Crenn
ateliercrenn.com

Gary Danko
garydanko.com

Kim Floresca & Daniel Ryan

Ken Frank
latoque.com

Suzanne Goin
lucques.com/suzanne_goin.html

Jason D. Hall
jasonhallcmc.com

Matt Hoyle
noburestaurants.com

Daniel Humm
thenomadhotel.com

J. Joho
chefjoho.com

Douglas Keane
chefdouglaskeane.com

Thomas Keller
tkrg.org

Christopher Kostow
christopherkostow.com

David Lentz
thehungrycat.com

Thomas McNaughton
centralkitchensf.com

Drew Nieporent
myriadrestaurantgroup.com

Patrick O'Connell
theinnatlittlewashington.com

Michel Richard (1948-2016)
centralmichelrichard.com

Eric Ripert
aveceric.com/eric-ripert

Tyler Rodde
oenotri.com

Gunter Seeger
gunterseegerny.com

Michael Schwartz
thegenuinekitchen.com

Joachim Splichal
patinagroup.com

Charlie Trotter (1959-2013)
thetrotterproject.org

Michael Tusk
quincerestaurant.com

Norman Van Aken
normanvanaken.com
---

Peter Michael Foundation Past Dinner Chefs
5/03/18
4/14/18
3/30/18
10/01/17
6/29/17
5/11/17
2/26/17
9/21/16
7/30/16
5/11/16
11/5/15
7/25/15
5/1/15
4/26/15
10/9/14
8/2/14
5/8/14
10/3/13
7/27/13
5/16/13
4/25/13
10/11/12
7/28/12
5/17/12
11/13/11
10/27/11
7/30/11
5/19/11
4/29/11
8/7/10
5/12/10
4/28/10
4/16/10
10/23/09
8/8/09
4/30/09
11/20/08
7/26/08
5/1/08
8/11/07
6/2/07
8/5/06
4/9/06