Get Involved
Become a Friend
Those who have attended PMF events or become involved in other ways often develop a sense of closeness to the people and commitment to the cause. As a result of attending PMF dinners, a great many have developed personal friendships based upon common interests in food, wine, medicine and business. Regarding those dinners, we say "Come as a guest. Leave as a friend."
But it all starts with joining the PMF mailing list which, by the way, is never shared with others. Friends on the PMF mailing list receive:
Print and email invitations to Peter Michael wine-paired dinners and auctions.
Periodic emails with important information on significant prostate cancer issues.
Printed copy of the Annual PMF Year In Review which reports on the Foundation's activities and accomplishments
---
Come to Dinner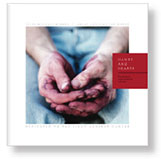 Peter Michael Foundation has a long history with the best US chefs due to the creation and publication of Hands and Hearts: The passion to create great food and wine. This award-winning cook book was the impetus for the intimate fundraising dinners with Michelin-starred chefs preparing multiple courses paired with Peter Michael wines, some never served to the public before.
The chefs have been wonderful partners in this charitable endeavor. Among them are Daniel Boulud, Thomas Keller, Eric Ripert, Michel Richard, Ken Frank, Suzanne Goin, Douglas Keane, Christopher Kostow, Michael Tusk, Tyler Rodde, and Colin Bedford. Currently, the Foundation conducts 3-4 fundraising dinners annually in California, New York and the Southeast. All dinner events are open to the public.
---
Become a Donor
The Peter Michael Foundation is continuously improving the lives of those affected by prostate cancer through its funding of innovative diagnostic and treatment research; patient education and assistance; and public policy initiatives.
The Foundation's work is financed entirely through private contributions. Because the US government continues to reduce spending on scientific research, private support is critical to achieve the real medical breakthroughs that are so badly needed.
The Peter Michael Foundation is a 501(C)(3) public charity; Federal ID#94-3238961. Donations are tax deductible to the extent allowed by law.
Please Click here to contribute.
Thank you for becoming a Foundation Friend.
---
BECOME AN INVESTOR
Cancer Solutions LLC, a subsidiary of Peter Michael Foundation, has been established to allow individuals to engage with PMF as investors in specific prostate cancer initiatives that have high commercial potential. Cancer Solutions LLC operates under the jurisdiction and governance of Peter Michael Foundation 501(C)(3). The ultimate goal is to make progress in prostate cancer management further and faster by applying a commercial mind-set and management skills to select high potential, mission-related opportunities. The second goal is to provide investors with an opportunity to earn a return on their investments and do good in the process.
Cancer Solutions differs from the old venture capital business in significant ways. The classic venture capital model raises funds first then casts about for investment opportunities. Cancer Solutions LLC identifies and vets prostate cancer investment opportunities first. Once it's satisfied that a project is medically relevant, scientifically valid, and commercially appealing, then the LLC begins selective fund raising. Additionally, Cancer Solutions LLC will focus on only one major project at a time until it has achieved a self-sustaining stage.
Again, the goal is to make dramatic improvements in prostate cancer management while providing investors with the opportunity to earn a return on their investment. If you would like to learn more, please email walter@petermichaelfoundation.org.
---
OUR OFFICE
1 Gate Six Road
Building B, Suite 201
Sausalito, CA 94965

Phone: 415.339.0400
Fax: 415.339.0485
Federal ID: 94-3238961
CONTACT US
Contact us using the form below, and we will respond to you shortly.